The story
The story behind ski harness for children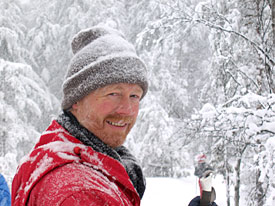 My name is Helleik Rabbe. I am married to Brita, have two children, now grow up. Being brought up in Telemark, Norway– the cradle of skiing, I've always been interested in the outdoors and wanted to share this also with my children. When the youngest, Thora, was old enough, I found that the ski experience was so-so, both for her and for myself; not really any particularly good experience.
I got an idea! I had previously been skiing with my dog pulling me and still had the equipment. What if we switched roles so that I was the dog? Thoughts into action, the dog harness was redesigned so that it suited Thora and thus the 123ski protype was created. And it worked – brilliantly!
Now a ski trip was something the whole family enjoyed and we skiied for long trips, more then 20 km! Thora got plenty of ski training, balance training, fresh air and a skiing experience that would not have been possible without this Ski harness. One can of course ask if kids should not ski by themselves? And yes, they do – but they get some help when they need it. And of course the child can be disconnected from the rope and walk by itself.
On the downhills, the rope is connected to the back of the child and the front to yourself so you function as a brake for the child. In alpine skiing, it is also possible to use two ropes so that one gets slalom training.
I hope many will get the enjoyment of cross country skiing with their children – it is a great pleasure for young and old and provides great memories that one can share and pass on.
The 123ski ski harness is in stock for immediate delivery and the prices include shipping cost worldwide! We offer a 100% satisfaction guarantee, i.e. if you are not satisfied, please return the equipment and we will reimburse you!
This shop is run by Rabbes Holding NUF; a Norwegian company with organization number
NO 996 728 765 VAT. If you want to contact us , you will find the contact information
here.